Training in boxing—will change your life. It'll improve your physical and mental selves, such as growing your self-confidence and self-esteem. Likewise, it'll also help you lose weight and build your dream physique.
Buying equipment, such as a high-quality pair of boxing shoes—will help you progress and learn faster. Also, they'll help you perform better right now. As a result, elite and amateur boxers own at least a single pair of boxing shoes.
So, what makes such shoes unique? You may ask. Well, they'll help you optimize your performance. For example, their grip is better than a regular pair of shoes—to ensure you won't slip. Moreover, they're usually more durable and stable.
Imagine yourself in a professional fight. You manage to land a few hits. However, once the opponent attacks, you panic and slip. That immediately will make you more prone to losing, as you won't have as much confidence as before the slip.
As such, buying a pair of shoes which have high grip—is a must. Additionally, you want to be as stable as possible, which is what a solid pair of boxing footwear do.
This article will discuss what makes a pair of boxing shoes worth the investment. Moreover, I'll list some of the best ones currently on the market that you should think of getting.
---
Before we dive in, if you want to learn more about the best boxing defensive moves you need to know, follow the link to an article of mine on the topic.
Overall best boxing shoes
Venum Unisex—Adult Elite Boxing Shoes
Before we begin with the first pair, it's important to understand the place a company has on the quality of its product. If the brand behind the footwear is low-quality, so will be the product.
In our case, Venum is a brand I recommend in most of my martial arts product recommendation series. As a result, I know how trustworthy and respectable in the community they are. So, when I saw they sell a pair of boxing shoes—I immediately knew it was high-quality.
These boxing shoes, by Venum, is the overall best one because of its utility and durability. I'm confident that if you buy it, your boxing ability will inevitably rise. As a result, your skills, and qualities as a boxer—will also improve.
And still, if you're just a beginner and are unsure of whether you should buy it or not, it'll be best if you try your luck with any pair of shoes. If you stay consistent and want to amp up your skills, sure—buy a high-quality pair.
However, most people who begin to box—don't stay as consistent as they hoped they would. So, don't be the type of boxer to buy all the equipment in the beginning; only to end up quitting.
I truly am confident that you'll enjoy this pair. Buying high-quality, durable, comfortable, shoes with high grip—is a must if you take your boxing training seriously. So, consider buying it!
Best budget boxing shoes
FISTRAGE Leather Kick Boxing Shoes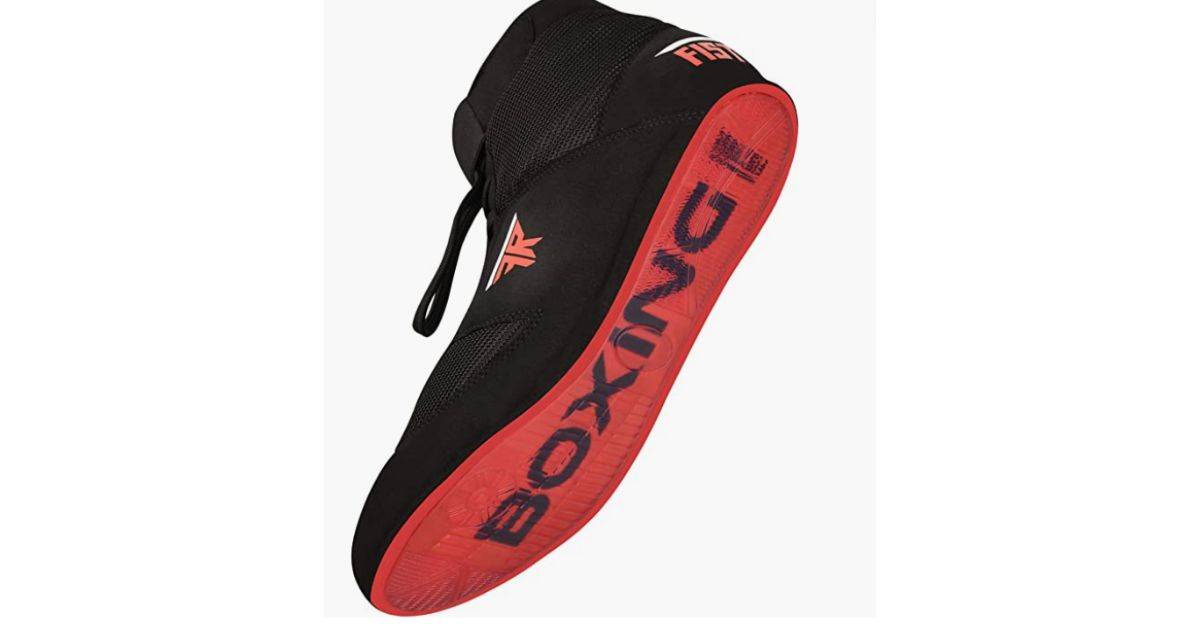 If you're a beginner and wondering which boxing shoes you should get, it'll be best if you go for the budget choice. Of course, this footwear is a solid, high-quality one. Although many folks think that the budget choice is often not worth it, the case is different with this one.
Everything that makes a high-quality pair of boxing shoes—is in this one as well. For example, you'll be more stable while wearing it. Moreover, you're less likely to slip with them, which is what all the footwear in this list provide.
I'm confident that you'll enjoy these shoes. They'll make you a better boxer just by wearing them.
Also, I encourage you to go for these shoes if you're unwilling of spending plenty of money on a top-tier per. Likewise, if you want to get footwear that'll do the job, without any extra cost for the brand name, this pair may be for you.
Finally, their price is lower than the average market. As such, I'm sure that most people who do boxing will be willing to spend a small sum of money for an improvement in their skill.
Best boxing shoes for beginners
Otomix Men's Stingray Escape Shoes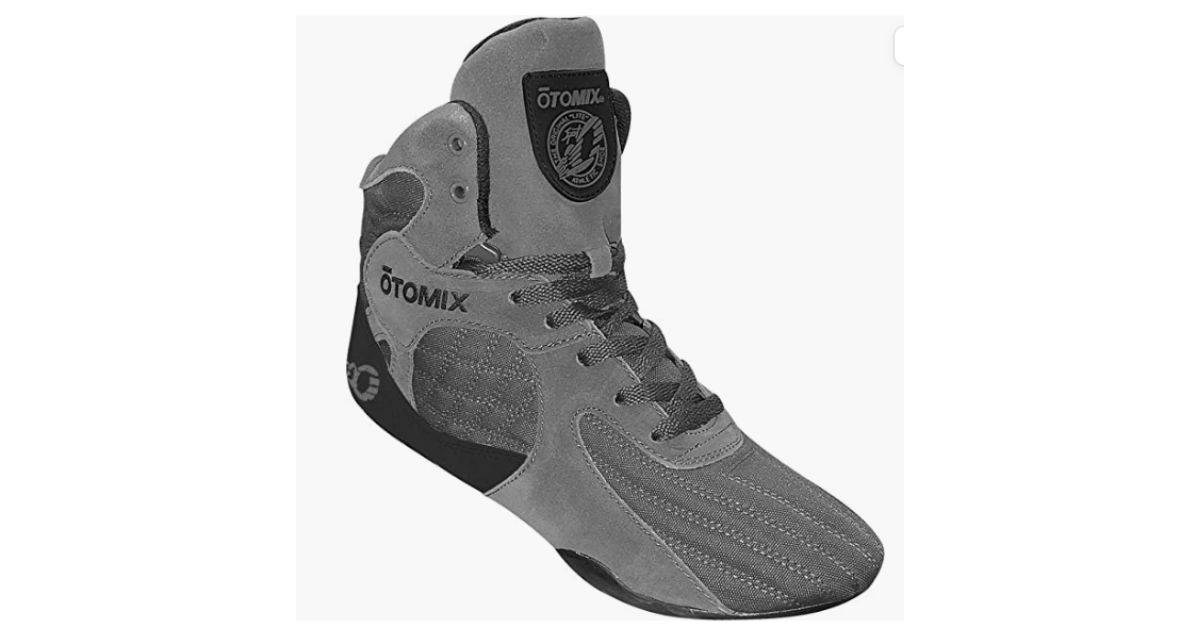 For our third pair, we have this one by Otomix. As I mentioned in the first product, the company behind the item says plenty about the quality of the product. You won't expect a worldwide brand to disappoint when buying from it—as you know it's popular for a reason.
This pair of boxing shoes, by Otomix, is the best one for beginners because it provides everything a beginner needs in an affordable price. For example, they'll provide you with stability, durability, and protection. They're also suitable for heavy weight-lifting as much as they do for boxing.
When I do boxing, I find it difficult to maintain my balance. I'm often not as stable as elite boxers because my technique is simply not as honed as theirs. However, they also have a suitable pair of shoes, which makes them less prone to fluctuations.
Eventually, if you're a beginner and don't want to spend plenty of money on boxing equipment because you may not remain consistent—you don't have to buy the best equipment out there. If you do, you'll find that you may not stay as consistent.
As such, going with a solid brand, such as Otomix, is a wise choice. I'm confident that your boxing ability will immediately improve if you pair yourself with suitable footwork, such as this one.
Best boxing shoes for wide feet
Everlast PIVT Low Top Boxing Shoes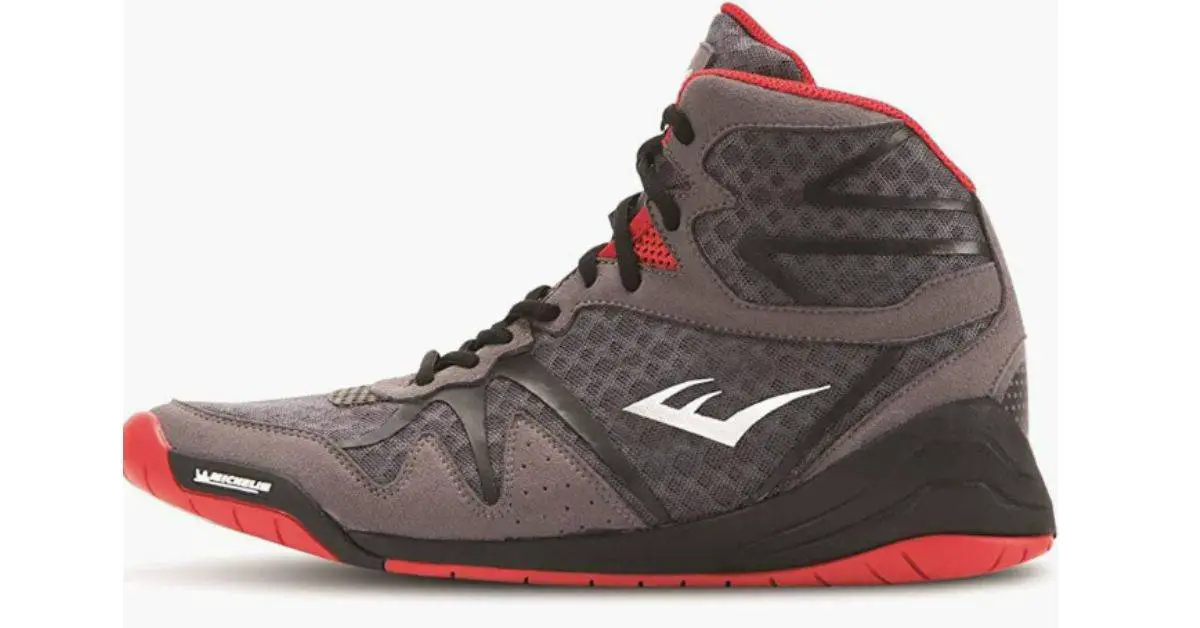 Everlast is one of the best brands you can buy boxing shoes from. They will provide you with everything you'll need from your footwear.
These boxing shoes will provide stability, flexibility, durability, and comfort. As a result, you should definitely consider buying them—if you're interested in boosting your overall ability to box.
A quick glance in the customer reviews will reveal everything you need to know about these boxing shoes; they're fantastic and high-quality. What people describe in their reviews—is what you likely are seeking for in your footwear.
You'll be getting comfort, flexibility, and durability. These three are what most people look for in their shoes. So, if you want to improve your boxing ability, consider buying this item.
Best boxing shoes under $50
Adidas Unisex-Adult Hog 3 Boxing Shoe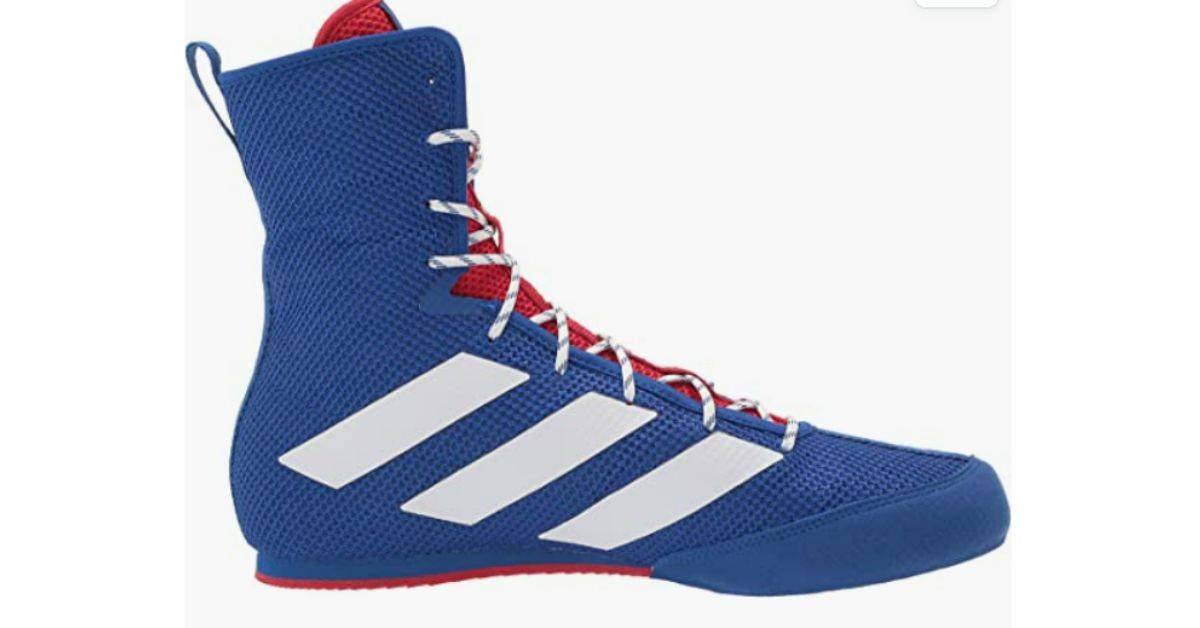 If you don't know who Adidas are, you better be living under a rock. One of the most respected and trustworthy brands in the realm of sports—is Adidas. Eventually, if you're looking for footwear that will last—you better consider buying them.
This boxing shoe costs less than average. However, it can still reach higher prices, depending on which option you choose in the Amazon store. These boxing shoes will provide everything you'll need from your footwear; which are durability, comfort, flexibility, and stability.
Of course, if you don't like the design, which I'm sure are, you can select another pair. And still, if you're looking to hone your boxing skills, pairing yourself with such a product—is a suitable and wise choice.
Best boxing shoes under $100
Ringside Diablo Wrestling Boxing Shoes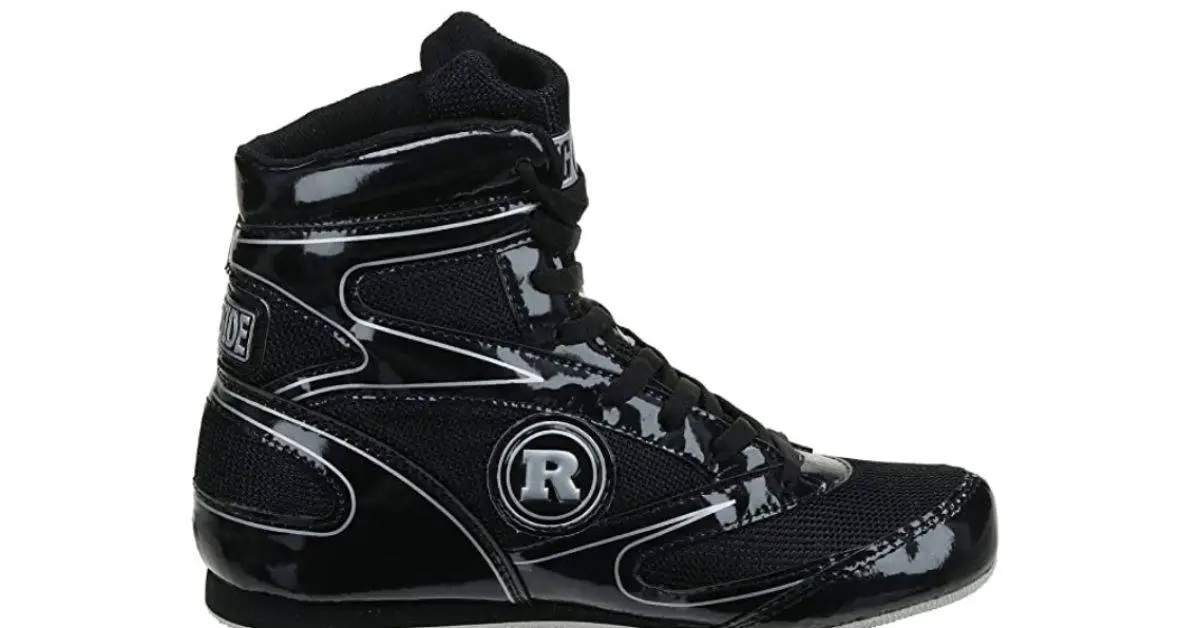 Our last pair is also one that I truly believe in. Although its price is the lowest out of all the ones I've listed in this article, I'm confident it'll do the work.
Ringside is a fantastic company that you can trust with your hard-earned money. They've been able to deliver to their many customers by providing them with such awesome products. I'm sure you'll be a part of the positive side if you decide to purchase these boxing shoes.
Likewise, I must say I'm a big fan of their design. If you're looking for a more stylish choice, you can choose from the six colorful designs Ringside offers. Additionally, they'll help you optimize your current abilities while looking good; a win-win situation.
In my opinion, it's the most stylish pair in this entire list. Moreover, its quality doesn't fall from the rest here, as it's durable, flexible, breathable, and comfortable; essentially, there's no reason you'll be let down after buying it.
---
Hopefully, you've been able to find the pair that you desire in this list. If you haven't, it's not the end of the world. You can keep honing your boxing skills without boxing shoes.
Keep working hard, especially when you don't feel like it.
How to choose boxing shoes
If you reached thus far in the article, you may have a pair in your mind. However, you're still unsure if buying it—is the right choice. Or, you may be completely confused as to which one you should select. Here's how to choose your boxing shoes:
To choose your boxing shoes, seek for the traits you desire to get; for example, some people look for comfort more than breathability. On the other hand, stability may be more important to one boxer more than another.
Eventually, it's all a matter of what you're looking to get from your footwear. I can tell you that stability and comfort are the two most significant factors.
That said, there are other metrics that you can think about when selecting your designated pair of boxing shoes. For example, you probably shouldn't buy a non-durable pair, as it'll rip quickly.
Do shoes matter in boxing
A suitable pair of shoes can improve your boxing ability by allowing you not to slip as often. Moreover, it'll provide you with increased stability and comfort. As a result, elite, and amateurs boxers wear suitable, comfortable, and flexible shoes that have high grip. This, indeed, gives them an advantage.
Of course, if you're still a beginner, it'll be best not to think about buying a high-quality boxing shoes until you're comfortable with this martial art. Who knows, you may stop training before they even reach your doorstep.
Should I buy boxing shoes
You should buy boxing shoes if you're looking to improve your stability and overall ability to maneuver in the ring. If you're a professional or an amateur boxer, buying high-quality footwear—is a must. However, if you're just starting out, consider waiting before buying a pair.
Don't be one of the people who start their boxing journey full of eagerness and excitement; only to end up quitting after a week of low-intensity training. Instead, you can better your boxing ability by buying a solid pair of shoes, once you're sure you'll remain consistent.
But, buying a solid pair of boxing shoes—is a fantastic choice in the later stages of your training.
---
If you're interested in learning how to train boxing at home and save money on classes—follow the link to a complete guide I wrote on the topic.
Can boxers fight barefoot?
Boxers cannot fight barefoot because they're obliged to wear specialized and suitable boxing shoes, specifically designed for that purpose. As a result, fighting barefoot—is deemed illegal. However, some amateur competitions and tournaments won't require you to wear boxing shoes.
In your training, however, you simply need to listen to the rules of where you train in. If you box at home, you can train barefoot, as it won't have any harmful consequences on your body.
Final words
To end this article, I want to show my complete appreciation for boxing. Truly, it's one of the best martial arts in the entire world.
If you're looking to improve yourself, mentally and physically, I recommend starting to box. Also, it's an extremely simple martial art, especially the basics. As a result, you can begin learning it without feeling overwhelmed too soon.
Buying a high-quality pair of boxing shoes—is a must if you want to compete. However, if you're a beginner, you can start training with any sports footwear you can get your hands on. As a result, it'll be best if you wait until you're sure you'll stay consistent with boxing in the long-term before buying a pair of shoes.
---
If you enjoyed reading this article, you'll also enjoy reading about boxing tips for your first fight. Reading this article will give you practical tips to come out on top in boxing fights—so be sure to read it!