Many individuals that work in the tactical field don't understand the consequences of having low-quality equipment. Ask any special forces operator, and one will tell you why having the best gear is critical.
The best tactical gloves provide plenty of utility for the user. You will become capable of improving your shooting, punching, and any action that uses your hands. As a result, your performance will increase with a pair of high-quality tactical gloves.
When I was in the military, I worked on my equipment for countless hours. For days on end, I would think: How can I make my equipment more accessible, comfortable, and thus more tactical.
This article will discuss the importance of having high-quality tactical gloves and the utility one provides to the user. If you're unsure of which one to buy, my pursuit in this article is to try and make it as straightforward as possible so that you can have the most suitable pair for your needs.
Why you should trust me
As much as I appreciate other creators in my niche, it's best if you have some experience- before giving others advice. For instance, I saw one website with a person with no tactical expertise. Yet, this person was advising on how to be more tactical.
I was in the military for a lengthy period serving as a special forces operator. In addition, I was out in the field for weeks and months on end. Thus I know what solid, comfortable, and high-quality tactical equipment are.
I'm capable of distinguishing between low and high-quality tactical gear. As such, I desire to explain the basic concepts to you- so you can learn more and have the most suitable equipment for your needs.
Lastly, I wrote a series of articles on tactical gear. At the end of this post, I'll include links to all of them to ensure that you have the best equipment.
Again, I know what it feels like to be on your equipment for months. There were weeks when I didn't have any breaks when I was in training. As a result, I was on my plate carrier for what seemed an eternity. Thus I appreciate the feeling of having high-quality equipment. But, first, let's dive into the article itself.
Overall Best Tactical Gloves
PIG Full Dexterity Tactical (FDT) Alpha Gloves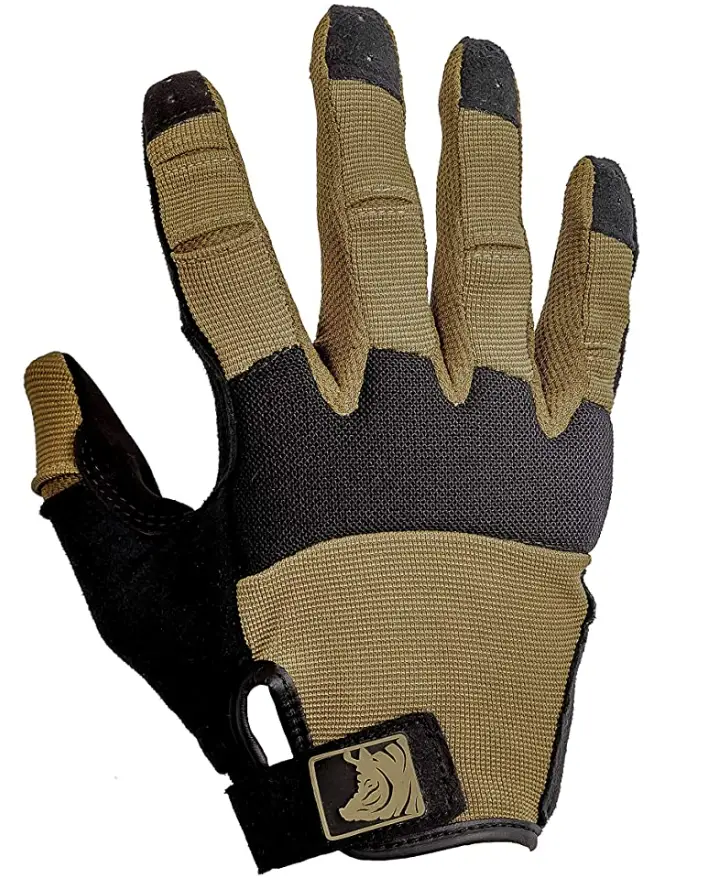 PIG is a company I first heard of when I began researching this topic. Usually, there aren't companies I'm not familiar with that sell tactical gear. Consequently, I was surprised to stumble upon a company I didn't know. I was more surprised to learn about their product lines- and their quality.
This tactical glove is suitable for all outdoor activities. Of course, if you're in shooting sports, you'll enjoy these tactical gloves the most. However, anyone who needs a pair of high-quality gloves can want this item's utility.
When choosing the best gloves, I followed a set rule of metrics. First, I looked into which pair provides the most utility while remaining high-quality and comfortable. I can confidently say that this tactical glove answers all of my metrics at an incredible level. As a result, there isn't a single doubt in my mind that you'll enjoy this item.
Additionally, you can use these tactical gloves for touch screens. As a result, you won't have to take them off every time you use your phone. But, again, that comes back to the utility. Because of all these features, you can use them in various ways and thus enjoy the value to its maximum capacity.
To summarize, I chose this item by PIG since they're a fantastic company that produces high-quality tactical gloves. In addition, because it's their sole product line, they're familiar with this area in tactical equipment. Consequently, trusting them with your money- is effortless.
Best Budget Tactical Gloves
Mechanix Wear Tactical Work Gloves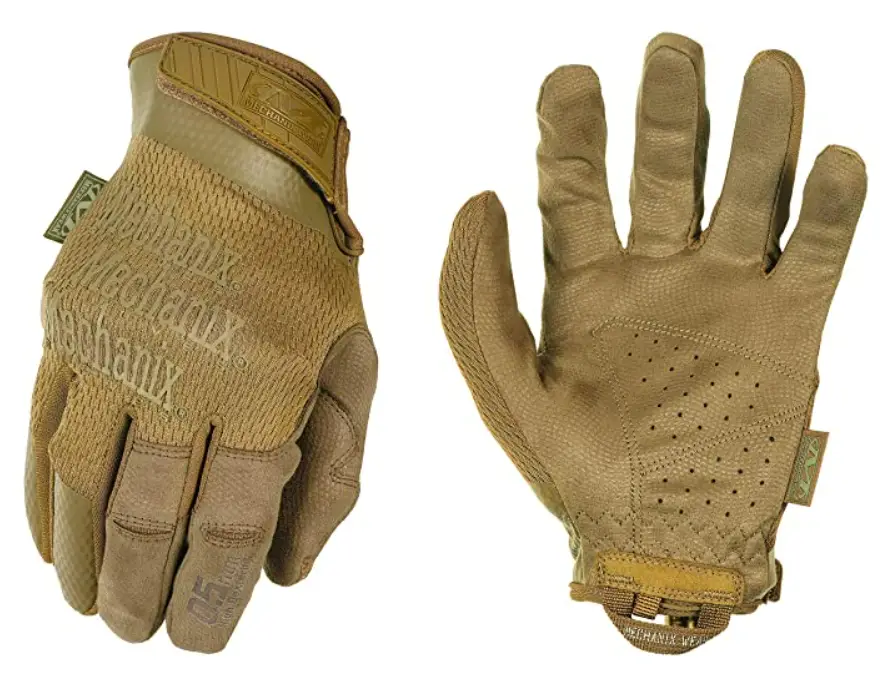 Mechanix Wear is what you think they are. They construct various pieces of equipment that mechanics usually benefit from having. Thus they're familiar with the area of tactical and safety lines. As a result, trusting them is effortless because that's what they do best.
This pair of tactical gloves is primarily suitable for activites that often use the hands. For instance, hikers won't benefit from this product as much as Airsoft players. Also, they're not as lightweight as the previous tactical gloves and the rest of this list.
The primary benefit they provide is for shooting and mechanic purposes. For instance, hunters can use these gloves incredibly well since they often use their hands. Thus they will use the value this glove can provide. However, if you're a cyclist, you won't enjoy them as much- as they'll be a burden on you throughout the activity.
Moreover, they're in the budget spot since they're cheaper than the average pair of tactical gloves. Because of that, they'll fit most people's budgets.
Lastly, the customer reviews of this product are overwhelmingly positive. Consequently, trusting Mechanix Wear with your money isn't as difficult as with some other companies. For instance, various products don't have as many positive reviews. Thus purchasing their items is a demanding task.
Best Tactical Gloves for Shooting
LA Police Gear Core Shooting Glove
LA Police Gear is a company I've known for a long time. In my various articles reviewing tactical items, they've shown up plenty of times. Consequently, they're a leading company in this realm. Overall, they have plenty of positive reviews to their name and are reliable.
This tactical glove is a fantastic choice for shooting sports because of its utility. The primary metric I followed for this section is agility and comfort. It is cheaper than the average shooting glove with all the products I stumbled upon, but it's also higher quality.
When I was in the military, I shot many bullets every week. I've used various types of gloves throughout my time there, ranging from work gloves to bare-handed. Thus I'm familiar with the functionality of each type.
This pair of tactical gloves are the best choice for any shooting sport. Whether you're into Airsoft or Paintball, you'll enjoy these gloves for their utility. They're lightweight, and thus you can use them whenever you desire without noticing them too often.
Best Tactical Gloves for Punching
FREETOO Knuckle Protection Tactical Gloves
I chose these tactical gloves for a primary reason, their utility. Everyone with any outdoor activity can benefit from wearing them. Whether you're a fisherman or a hunter, you need to protect your hands. Well, this item is a suitable choice for you.
These tactical gloves are a fantastic choice since they can fit anyone. If you're into shooting, you'll enjoy the protection from the heat and of your hand. Moreover, if you're a hunter, you'll fancy the amount of utility these gloves provide.
I listed these as the best tactical gloves for punching because of the knuckle protection. When you punch repeatedly, you'll begin to feel your knuckles sore. That's a natural response of pain from your body to signal that you may need protection.
Various injuries are related to constant punching training, and therefore protecting them is a top priority. If that's your desire for your tactical gloves, I encourage you to purchase this product.
Lastly, the company. FREETOO designs and sells tactical gear in many forms, including gloves. They're familiar with what makes such a piece of equipment high-quality. Thus buying from them- is a wise and safe choice.
kemimoto Tactical Gloves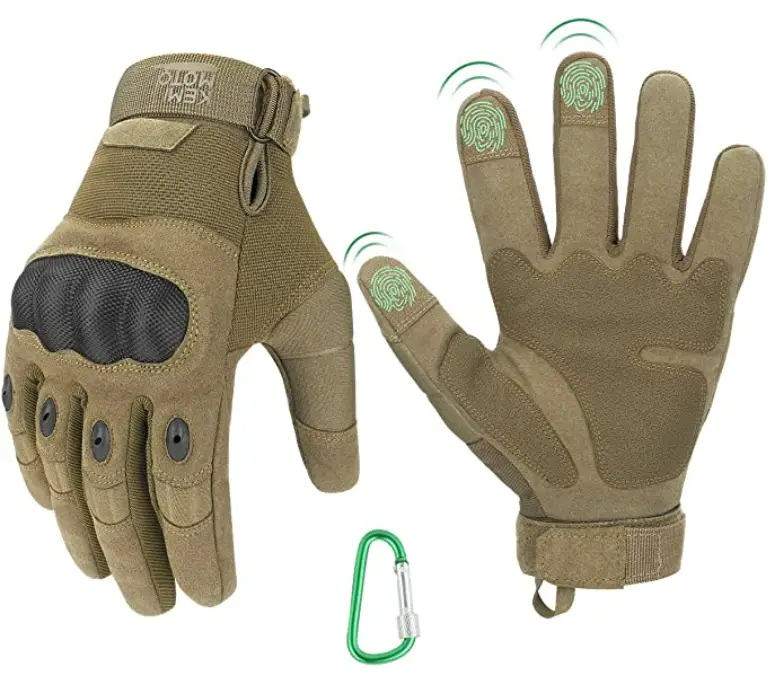 kemimoto is a fantastic company with exciting product lines. I encourage you to check them out if you consider buying these gloves. I won't go into too many details, but they're a reliable company.
First, these tactical gloves have a complex knuckle system. As a result, they'll protect your knuckles when you use them. Secondly, the company behind the product is reliable, and therefore you can trust them with your money. Thirdly and lastly, they're as high-quality because of their many features.
For example, these tactical gloves are breathable, so you won't feel "stuck" inside them when you're sweating. Additionally, they're durable, and thus, you can use them for a prolonged period without them becoming unusable.
These features mean the same thing, they're high-quality pairs of tactical gloves. So whether you're an Airsoft player or a fisherman, you're capable of enjoying their value.
Lastly, their design. Although I didn't mention design as much in this article, I would like to say that I fancy these gloves' design. Hence if you care about this metric, you may find them more suitable than other products. As such, buying them and not another pair of gloves- may be wiser.
Mechanix Wear M-Pact MultiCam Tactical Work Gloves
Mechanix Wear is a company I already listed in this article. Yet, I felt the urge to list another of their gloves since they're as high-quality.
These tactical work gloves are suitable for anyone who uses their hands repeatedly. For instance, hunters and Airsoft players will enjoy this product more than others without the need to use their hands as much. But, they're not as lightweight as the other items.
Because they're not as lightweight as other pairs of gloves, using them for specific purposes- may not provide as much value as using them for longer activites. Some may find this pair unsuitable for their desires and, therefore should consider buying a lightweight pair of tactical gloves.
Yet, I listed this product in my list. There's a single reason I did so, and that's because of the impact resistance. Some people's work comes with a risk of injuring one's hand. Consequently, protecting them becomes a top priority.
In that case, buying such gloves with impact resistance- is wiser than all the other products I listed. If there's a primary purpose for Mechanix Wear product lines, it is to protect your hands as much as possible while providing comfort and utility.
WTACTFUL Rubber Guard Tactical Gloves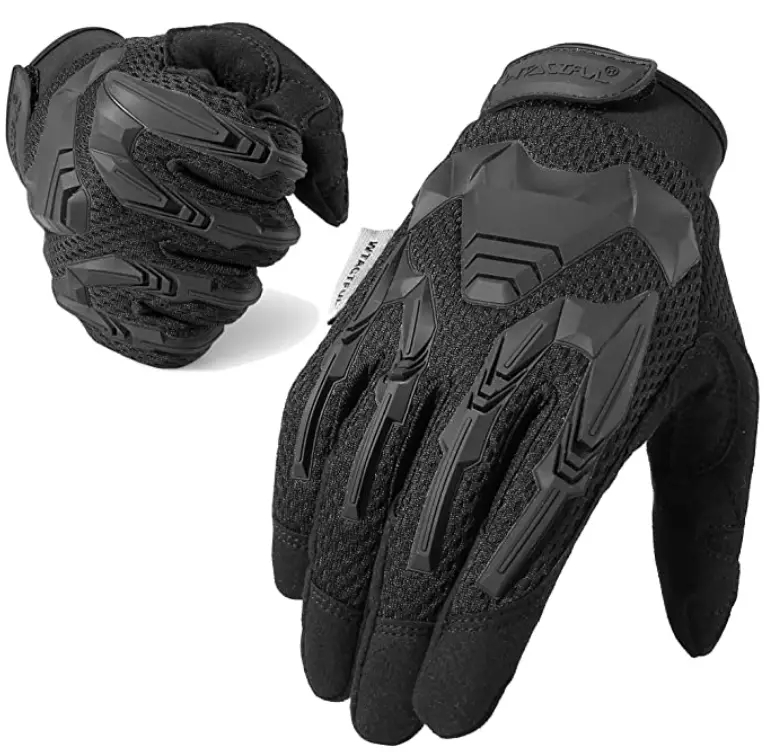 Comfort in your pair of gloves should be one of the primary metrics to follow. In this article, that's the most influential metric I followed since it's the most critical from my experience. As a result, every tactical glove you'll buy will be comfortable.
These tactical gloves by WTACTFUL are a fantastic pair because of their utility. They're more of a lighter-weight pair and provide more agility and flexibility. Additionally, they're breathable, so you'll enjoy using them under the hot sun. Eventually, they're suitable for all outdoor activites, such as cycling, hiking, hunting, and Airsoft.
Let's discuss their design. Personally, their design is the best looking out of all the tactical gloves I listed. As a result, if that's a metric you go by, consider buying them.
Moreover, they're padded with rubber. Consequently, they'll protect your hands from impacts and other dangers, such as shrapnel. Because of that, they provide more utility than the average pair at a lower price.
Oakley is a company I religiously follow. If there's a single company I trust the most with my money, it's Oakley. However, you may ask, how come they're as far down in your list if you're such a big fan? The answer to that is uncomplicated. Their tactical gloves aren't as prominent in their lines. Therefore, you can trust them with other products, such as sunglasses and fit shirts.
Yet, these tactical gloves made it to my list because of their utility. They're built for dexterity over impact resistance. Thus they're more suitable for tactical environments than work ones. Because of that, if you're military personnel, I highly encourage you to buy them.
Moreover, these gloves are incredibly breathable since Oakley made them from high-quality materials. (Nylon and Suede) Consequently, when working under the sun, you won't feel them troubling you as much as other pairs of tactical gloves.
Comparing this product with Mechanix Wear's ones- is impossible because they're not for the same purpose. While these are best for tactical environments, Mechanix Wear constructs their tactical gloves for work purposes over dexterity and breathability.
Overall, buying this product will be best for those who desire a lightweight pair of gloves. If you're looking for anything else other than dexterity, I encourage you to consider purchasing another gloves.
Magpul is a company that sells shooting gear. They have various sights and other equipment related to this area. As a result, their tactical gloves are also most suitable for shooting sports. However, they're ideal for other purposes as well.
These tactical gloves are lightweight, durable, and comfortable. Consequently, they will fit for tactical scenarios. Additionally, this pair offers a high level of dexterity. Thus if that's your pursuit, you'll enjoy using this item plenty. Lastly, by wearing them, you won't decrease your motor skills. As a result, if you need to use your hands for such skills, your performance won't be jeopardized.
Lastly, their price is below the average. Hence they fit more people's price budget for tactical gloves. In that case, more people may be willing to buy them. Moreover, they're suitable for any outdoor sport or activity. Therefore, I recommend considering buying them as their high-quality pieces of equipment.
Critical features of tactical gloves
Knowing which gloves are the best for their price, and knowing the metrics you can follow is critical. The differences between a low-quality pair and a high-quality one are found in the following subheadings. These are the essential features of high-quality tactical gloves.
Comfort
Every piece of tactical equipment should be comfortable. If it's not, you won't want to wear them as much. As a result, their value decreases automatically. For instance, if you own an uncomfortable set of tactical shirts and pants, you won't wear them even when you need them most.
Design
Although that's not a metric one must follow to have a high-quality pair of tactical gloves, its design may suggest that the company knows what they're doing. For instance, if a company designs a pair of gloves to your liking, it may indicate that they're familiar with this area. Thus you can trust them with your money.
Flexibility
In tactical environments, being lightweight and capable of responding quickly- is crucial. Because of that, wearing stretchy clothing- comes hand in hand with being tactical. Hence a pair of high-quality tactical gloves must be as flexible as possible, so you can perform various actions without needing to take them off.
For instance, many gloves are suitable for touchscreens. When using your phone, you won't have to take them off. Therefore, they're more flexible.
Breathability
Working under the hot sun is a part of the job. At times, one can sweat without needing to take one's clothes off. As a result, wearing suitable gear for hot weather- is beneficial. In addition, breathable clothing means that air is constantly flowing in and out. Thus you won't feel the gloves as much when sweating if they're breathable.
Lightweight
Responding quickly means you must be lightweight. As such, wearing delicate pieces of equipment- will assist you in shortening your response time and being more flexible. Thus tactical gloves that are high-quality will be lightweight.
Durability
What's the point of buying anything if it's not for the long term? You will better spend your money if you invest a little more in a long-term product. For instance, if your gloves wear off after a week, you won't be satisfied with the product. Thus high-quality tactical gloves will last longer and therefore are durable.
Waterproofness
Tactical environments include anything you can imagine. You may end up working in water or under the sun. Consequently, you must prepare for any plausible scenario. As such, wearing waterproof equipment is a must to be ready for anything.
Fabric
The material from which the tactical gloves are made is everything. If the fabric isn't breathable, the glove won't be breathable. The tactical glove won't be comfortable if the fabric isn't comfortable. Thus you must check the material from which the item is from to judge the other metrics.
Benefits of tactical gloves
Tactical gloves offer various benefits. These benefits provide plenty of utility that you can use to perform better. Let's examine some of the benefits you may expect to get when buying a high-quality pair of tactical gloves.
Hand protection
Protecting your hands is a must in any outdoor activity. Whether you're into Airsoft, hunting, paintball, or even cycling, your hands should be a top priority. Thus wearing tactical gloves, which are also impact-resistant, is incredibly beneficial to the health of your hands long-term.
Better grip
You may stumble upon instances in which you need a solid grip to complete. That leads us to the previous point. At times, strong hold without any protection will cause permanent damage to your hands. Thus, if you want a firmer grip and to protect your hands with one item, it'll be best to purchase a high-quality pair of tactical gloves.
How I chose my tactical gloves
I chose the gloves I listed by following all the metrics I listed in the previous sections. If a pair of gloves weren't comfortable or durable, I wouldn't have listed them. Consequently, if you decide to purchase one of the products I listed, you won't regret buying them- as they're comfortable, durable, and tactical.
Additionally, I used my experience in the tactical field to ensure you'll get the best for your money. Many people aren't aware of the benefits you may receive from having the best equipment. As such, I'm here to offer you just that.
Final words
Having the best tactical gloves is a must- for anyone with an outdoor activity. For instance, if you're a hunter, you need to shoot at your best. Thus tactical gloves will assist you in doing so. Additionally, if you're an Airsoft or Paintball player, you'll enjoy the feeling of shooting with gloves on. (That also protects your hands)
I believe that having the best equipment will boost one's performance. So if you're trying to improve in whatever activity you do, you'll enjoy having high-quality gear.
For instance, when I was in the military, I would work on my equipment nonstop. Because I wanted to be ready for anything that came onto me, I desired my equipment to be the most accessible, comfortable, and practical. As a result, I was prepared to react quickly when something did come.
On my website, I wrote a series of articles all to assist people in avoiding buying low-quality equipment. Consequently, if you're reading this post, you may be interested in some of these. Thus I'll include them after this paragraph.