Having high-quality tactical gear will ensure you're at the top of your game. Thus buying the most suitable tactical belt for you- will assist you plenty. Many individuals resort to low-quality gear because of the pricing. However, that's a mistake simply because they won't have positive experiences using them.
A high-quality tactical belt is durable, reliable, waterproof, lightweight, tactical, and comfortable. Because of that, buying one will assist you whether you're a special forces operator up to airsoft players or even hikers. The utility one provides is irreplaceable.
Throughout my career, I used a variety of belts, from tactical to regular everyday carry. Because of that, I know what works and what doesn't. In the next section, I'll explain why you can trust me to assist you with your next purchase of a belt.
Before we continue, I wrote a few posts that correlate closely with this one. They'll complement your desire for getting the best value for your money while maintaining high quality. I encourage you to read about the best tactical shirts, best tactical pants, and tactical helmets– you should consider.
Why you should trust me
When you searched for such a guide, you may have not expected to see so many people writing about tactical belts. As I'm writing this post, I can see why you're thinking like that. However, you can trust me for the following reason.
I've served in the military as a special forces operator for 4-years. As a result, the experience I received in tactical gear and special operations is incredible. I would like to share this experience to assist you in making better choices, as I can distinguish between low and high-quality products.
I can say with complete confidence that I have plenty more to learn. It's a never-ending process, and you can always study more about this subject. However, the number of belts I use is enough to declare that I'm capable of recommending such products- to you.
Overall Best Tactical Belt
5.11 Tactical Men's 1.5-Inch Convertible TDU Belt
Frankly, 5.11 is the best company for tactical gear. I completely trust their product lines to lead the market. Because of that, when I saw they're producing tactical belts, I was immediately intrigued. I wasn't surprised to see that although the low price, their delivery is on point.
The belt is from nylon and thus it's durable and reliable. The material is suitable for tactical environments because it's also lightweight. Additionally, this tactical belt is suitable for everyday use. Additionally, it's a non-metallic belt which makes it metal-detector friendly.
5.11 constructed this tactical belt to fulfill the most positive aspects you can expect to gain from a solid belt. As a result, the outcome of the product is that it's high-quality, and everyone can use it for all imaginable purposes.
Whether you're into hiking, airsoft, hunting, golf, survival, or you're a soldier or operator, it'll be suitable. Because of that, there's no doubt in my mind that if you decide to buy this tactical belt, you'll be surprised at how high-quality it really is.
To top it off, the number of positive reviews is overwhelming. Usually, looking at what customers have to say- is the best factor in deciding which product you'll eventually buy. Lastly, the price is lower than average. Because of these, I decided to list it as the best overall belt.
Best Budget Tactical Belt
Propper Tactical Duty Belt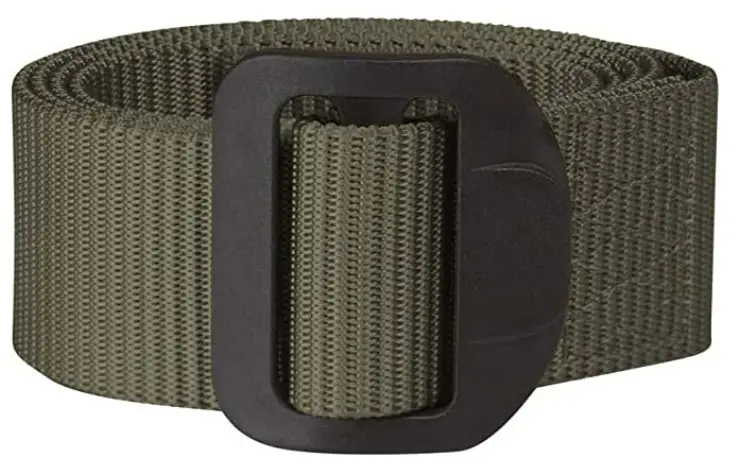 At times, the product's listing plays a large role in whether it's high or low-quality. Thus deciding on which belt is the best for people who are unwilling to spend plenty of money on it- was challenging. Until I came across this duty belt- by Propper.
My history with Propper is positive. Overall, they're an extremely solid company with solid customer service- that won't leave you hanging- and I'm not sponsored or anything like that. I honestly believe in this company.
This tactical belt- by Propper is from polyester and cotton. As such, it makes the belt durable- however not as much as the previous product. Yet, it's suitable both for everyday use and for duty personnel. Because of that, if you're unwilling to spend as much money on a tactical belt, I encourage you to consider this one.
Additionally, it also includes a non-metallic buckle- which is suitable for dealing with metal detectors. There's nylon wrapped around the belt, which means that it's more durable than if it were solely from polyester and cotton. Still, not as much.
To summarize, Propper has topped the market off with this product. As much as I love expensive high-quality products, they showed me that you can save money while having one of the best available. There's no doubt in my mind that you should consider buying it.
Best Tactical Belt for Big Guys
KRYDEX Quick Release Tactical Heavy Duty Belt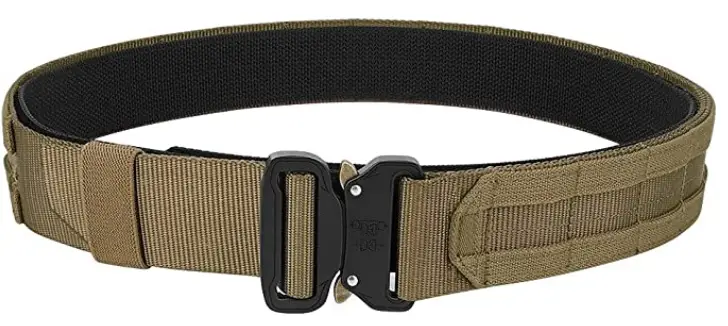 For carrying items or any other carry-need that you may have, KRYDEX will fulfill. They're the go-to company for such purposes and because of that, I had them included in my list. Their product lines are top-notch and thus there's no doubt you'll be satisfied with this item.
This tactical belt is as comfortable as it gets for bigger fellas. It has a quick-release function- made to boost flexibility in the item. Because of that, it's more tactical than the rest of the products. However, it's listed at an above-average price, which makes it less affordable for most.
I love this product because of the utility that it can provide. It'll assist you with movement as it's lightweight and because of that- its quality increases. I would encourage everyone to buy this belt- even if you're not a "big guy".
Lastly, it has a good design look to it, which is as important as the other factors. Because of that, you can wear it in everyday scenarios, which makes it even better.
Best Tactical Belt for Military
JUKMO Tactical Belt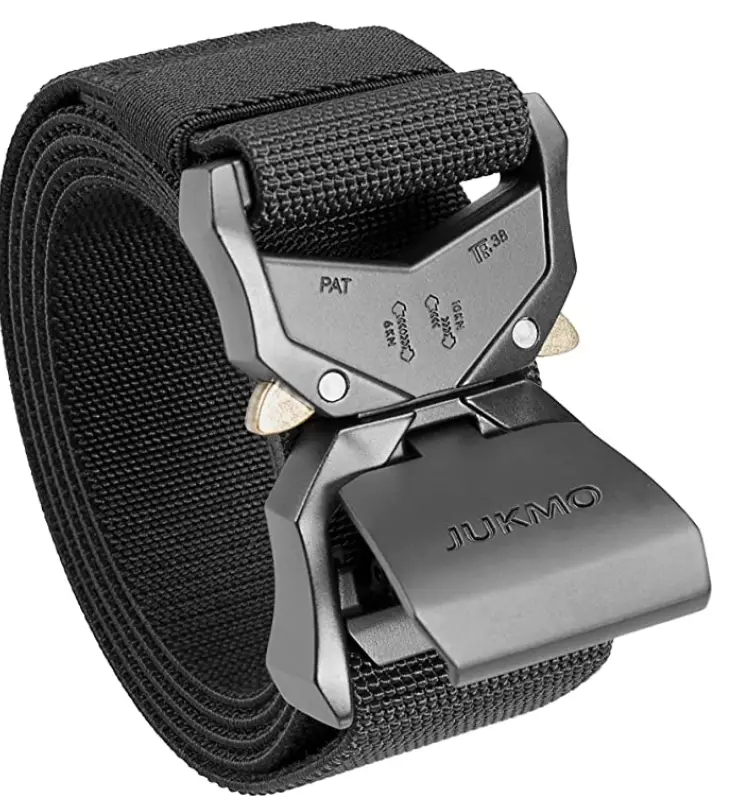 Most of my teammates have used this type of belt. Because it's as comfortable and functional as it is, it's suitable for tactical situations- which is what the military is about.
JUKMO is a fantastic company that constructed this high-quality product. They're familiar with the industry and thus I recommend putting your trust in them. There's a fair amount of companies I wouldn't say are "trustworthy". Yet, JUKMO really is one.
They constructed this tactical belt from nylon, which as I've previously mentioned- is incredibly durable and reliable. Because of that, you won't have to wear from it wearing off by water, because it simply won't. Additionally, the nylon fabric is stretchable. That boosts the quality more.
Although I'm not as familiar with this company, I can tell when a tactical belt is high-quality. I and many of my teammates used such a belt throughout their service, and because of that, it's incredibly effective. I can't quite find a negative aspect about this belt, although I tried to.
To summarize, this tactical belt is durable, breathable, flexible, lightweight, and tactical. Because of that, buying it- is wise. The price is listed below the average, which makes it affordable for most people's budgets. I encourage you to consider it as your purchase.
Best Tactical Belt for Everyday Use
Columbia Men's Military Web Belt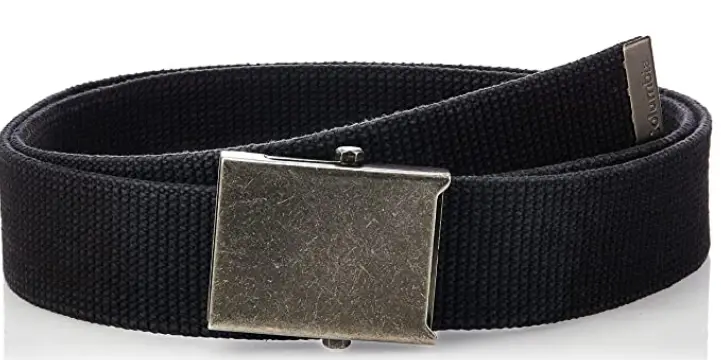 We all know what's the #1 factor for a high-quality, everyday belt, its design. If we want to wear it casually, it must be suitable for such a purpose. Picture yourself walking into a grocery store with a belt that has 3-pockets on its side; you would look ridiculous.
Columbia is a fantastic company. Most of my wardrobe is from them. My jackets, coats, t-shirts, and two pairs of shoes. Therefore, I trust them as much as I trust myself. If there's a basket to put your eggs in, it's Columbia.
They made this tactical belt from cotton, which makes it comfortable, durable, breathable, and lightweight. It comes in a single size, which they promise fits everyone. As a result, there won't be any need to measure yourself. Lastly, it looks solid. If you were to wear it at the cinema, you would look good. Because of that, I fancy this product.
It's perfect as it's comfortable to walk around the house and do any outdoor activity. If that's your desire, I encourage you to consider buying it.
Eventually, Columbia is a solid company that you can trust. Because of that, if you like the design, I wouldn't worry too much about the aspects of it, as it's higher quality than most products out there. Lastly, its price is on the lower side- which is even better.
In my article about the best tactical shirts, I've mentioned Condor as the best company for such purposes. I trust their product line and therefore I listed this item with complete confidence. They're a leading, innovative company and you can trust Condor as your tactical gear supplier.
Condor made this Rigger belt from nylon. Now, it's not news for you that it's durable, reliable, lightweight, waterproof, and tactical. Because of that, buying it- will ensure you will be satisfied with the product- as it's high-quality.
One of the better-looking materials in the tactical belt industry is leather. Because of that, they designed it to look professional and presentable, which is exactly that. It's suitable for everyday carry and for everyday activity.
Leather is durable and reliable. However, it's not as lightweight as the other fabrics, which are nylon and cotton. That said, I consider it to be a tactical belt because of its utility. Not only is it suitable for everyday carry, but it's also suitable for hobbies, such as airsoft, hiking, and many others.
This tactical belt will especially fit if you're in the military or an operator. It's well-designed for such purposes and therefore, if that's your desire- I encourage you to buy this one. It's lightweight, breathable, durable, flexible, designed for the military, and tactical. Thus it's a high-quality belt.
Its listing is higher than the average price of a tactical belt. If you're unwilling to spend plenty of money on such an item, I recommend considering the budget option. Regardless, if you decide to buy this tactical belt, I guarantee you'll be satisfied with it.
Arcade Ranger Belt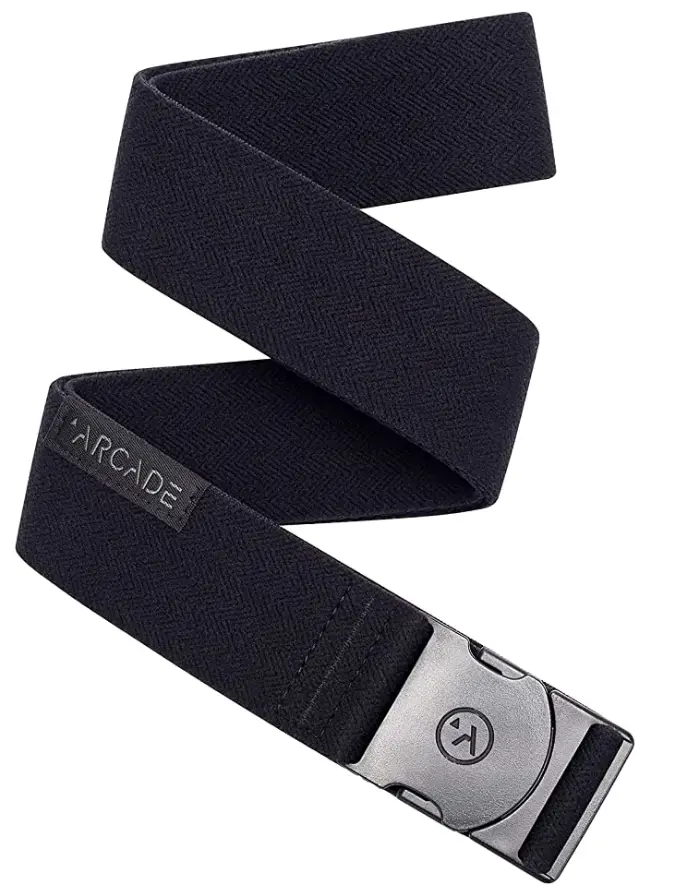 I loved the design of this tactical belt. It's useful for many tactical situations. Yet, it won't be suitable for special operations for one single design flaw. The silver color isn't a suitable one for stealth situations. You'll be seen if any light flows your way in the shade. As such, I don't recommend buying it if you're a special forces operator.
This tactical belt is suitable for everyday use, including casual and many hobbies. Because of its design, many people have bought it to complement their casual looks. Additionally, it's lightweight, durable, breathable, and looks good. As a result, I decided to include it in my best tactical belts list.
Types of tactical belts
Of the few types, there are, choosing one that's most suitable for your needs- is crucial. If you do so, you'll have an effortless time enjoying the product. Thus you'll gain the most value for your money.
Gunbelts
Gunbelts are valuable if you're constantly on your gear. Therefore, military personnel will enjoy this equipment the most. However, many outdoor enthusiasts need quick storage space. As a result, they can benefit from having a gunbelt as much as operators do. For instance, airsoft players, hikers, hunters, and fishermen may utilize it as much as operators.
Everyday use
Everyday use is well-designed belts that fit everyone. They're your casual to-go belt for anywhere. Practically, you can use it for tactical purposes as much as for other activities. However, they utilize their best if you wear them casually.
Military belts
Military belts are for military personnel exclusively. Usually, operators won't buy such types of belts. In my service, the only tactical belts I bought were for everyday use because they look good while being tactical. However, if you're looking to buy such a belt, there are a few that I listed.
What makes a tactical belt high-quality?
When looking for a high-quality belt, various aspects verify that it's a solid item. For example, if the product is heavy, it won't be as effective as you may initially think. Additionally, if it's made from a non-durable fabric, it'll wear off rapidly, which deducts points.
Durability
Durability is usually the fabric that the company made the tactical belt from. If it's nylon, cotton, or polyester, it'll be a durable item. (for the most part) Yet, if it's from materials such as rubber, it won't be as reliable as it may look.
The main point is to stick to fabrics that you're familiar with.
Read more about fabrics that are a fit for hot weather by following the link. (elle.com)
Breathability
Such a factor is better influential if it was a shirt. Yet, it's a belt. You don't need it to be extremely breathable, with air circulation systems. Instead, simple solutions for the tactical belt will make it higher quality. However, don't let breathability stop you from buying a high-quality item.
Flexibility
Suiting the belt for your body may be the most vital aspect of it. If it doesn't fit, it's useless. At times, it comes in a single size, which means that it's incredibly flexible. However, if it comes in various sizes, match it to your measurements. If you won't, the belt simply won't fit.
Design
The design is an incredible factor- most people look over it. You must be a fan of the design- or else you won't be as confident wearing it. Additionally, if you're looking for a gunbelt/military belt, you should consider a camouflage design- as it's most suitable for your activity.
Do not buy a camouflage belt for everyday use. (I made that mistake once- don't judge me)
Weight
If the tactical belt isn't lightweight, move on to the next item. Everything about special operations is being quick on your fit. Thus you must minimize the weight you're carrying. If you don't, you'll get into a world of trouble, mostly from your boss. (from experience)
How did I choose the tactical belts that I've listed?
Essentially, I combined these factors and prioritized which ones I'll be looking at the most. As a result, I came up with a list of products that all fulfilled the priorities I had. For instance, it being lightweight was incredibly important to me. Additionally, durability and not costing too much are also factors.
I encourage you to look back at the list, if you haven't bought a belt already, and check them for yourself. I fancy the idea of having someone to listen to when you're not as familiar with the subject. I know mostly everything about tactical belts- and their utility. Because of that, I hope you trust me to assist you in making an appropriate, valuable, and suitable decision.
Conclusion
Having the best equipment for the activity you participate in- is crucial. It'll assist you to perform at the top of your level constantly. However, many people resort to buying mediocare gear, since it's cheaper. Although I understand if you're unwilling to invest plenty of cash on such products, I recommend you to buy the best.
This list contains of items I believe in. If I were to need a tactical belt (There are 7 belts to my name currently), these are the ones I would buy. You can trust me because of my experience.
Some article that may be of interest to you are the following.
The 3 martial arts special forces learn.